**Nomadic Son reduced trading hours for 1 month**
We will only be open on Saturdays and Sundays for the weekends of
21st and 22ns Sep
27th and 28th Sep
4th and 5th Oct
11th and 12th Oct
10am – 5pm
We sincerely apologise to our dear customers for any inconvenience this may cause. Online shopping will continue and all orders to be posted on our return beginning MONDAY 20th October.
We look forward to returning with some wonderful unique hand sourced pieces for our customers and thank you sincerely for your understanding.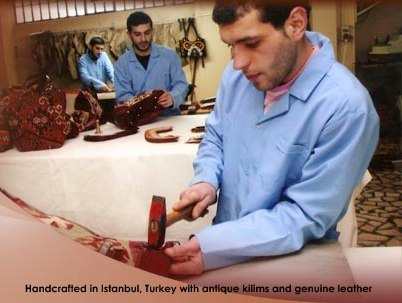 Each piece is unique featuring genuine leather and either hand embroidered suzani from Uzbekistan or original vintage hand woven wool kilim from Turkey. The quality of the workmanship is visible everywhere with quality stitching and lining throughout. These are accessories that will last and last.
We have many more items, colours and styles that are available but not shown here. Please feel free to contact us and we will be happy to send you additional pictures of in stock items.
mens kilim wallets and key holders: Vintage handwoven kilim (100% hand spun wool and natural dyes), genuine leather, mens wallets $50.00, key holders $30.00
$50.00 shoulder strap kilim purses:
Olive Green full zipper handbag: $180.00 (W:11, L:34, H24cm)
Patchwork bag: $150.00 (W:11, L:35, H18cm)
Patchwork bowling bag: $190.00 (W:19, L:38, H23cm)
Silk Suzani bowling bag: $270.00 (W:19, L:38, H23cm)
luggage bag (4): $320.00
(W:27, L:30, H36cm)
SOLD
Luggage bag (5): $380.00 (W:30, L:60, H35cm) SOLD
Antalya bucket bag: 40cmL*30cmH*15cmW: $245.00
Large silk Suzani Clutch (with strap): $160.00
(W:2, L:30, H15cm)
Large silk Suzani Handbag (with strap): $260.00
(W:5, L:34, H37cm)
Brown leather & silk Suzani handbag: $260.00
(W:12, L:40, H26cm)